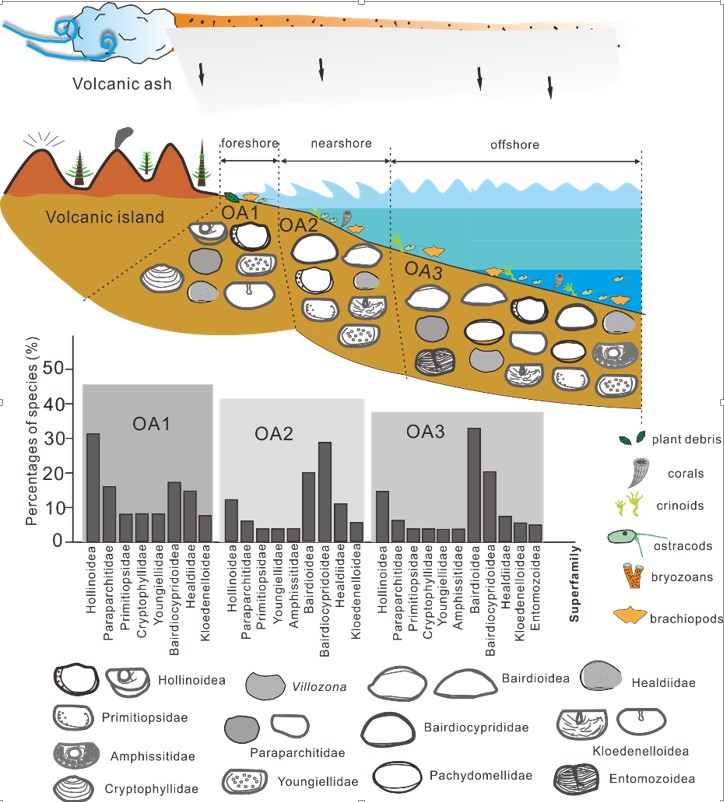 Fig. Palaeoenvironments and ostracod assemblages from the Lower Member of the Hongguleleng Formation, western Junggar, NW China
Ostracoda are microcrustacea that first appeared in the Early Ordovician and are still developed today. They are very sensitive to the ambient environment conditions and variations, such as salinity, bathymetry, temperature, hydrodynamics, oxygenation and nutrients. Ostracods have attracted much attention from (palaeo)biologists and (palaeo)ecologists as sensitive ecological markers, offering special insights for palaeoenvironmental and palaeogeographical reconstruction.
The western Junggar region is located in the northwest of Xinjiang Uygur Autonomous Region, NW China, which is an important component of the Central Asian Orogenic Belt during the Palaeozoic. The Late Devonian Hongguleleng Formation cropping out in the Shaerbuerti Mountains was deposited in the back-arc basin of the Zharma–Saur arc, which yield abundant and diversified faunas and floras.
Recently, Dr. SONG Junjun from Nanjing Institute of Geology and Palaeontology, Chinese Academy of Sciences, together with Prof. GONG Yiming from China University of Geosciences (Wuhan) and Prof. CRASQUIN Sylvie from Université Pierre et Marie Curie studied the Late Devonian benthic ostracods from western Junggar. Three assemblages of ostracods in the open oceanic island arc are first proposed based on ostracod faunas from the Hongguleleng Formation, i.e., OA1 (Ostracod Assemblage-1), OA2 (Ostracod Assemblage-2) and OA3 (Ostracod Assemblage-3), which represent foreshore, nearshore and offshore environments. They are more flexible and complicated than the ostracod ecological assemblages in the continental margins. The hydrodynamic condition is considered as the major environmental factor controlling the composition of the ostracod assemblages from the Hongguleleng Formation. Salinity fluctuations may also influence the composition of the ostracod assemblages.
Article information: Song J, Crasquin S, Gong Y. Late Devonian benthic ostracods from western Junggar, NW China: Implications for palaeoenvironmental reconstruction. Geological Journal. 2018;1-10.
(Information Source: NIGPAS)